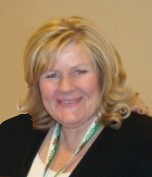 The Ontario Gymanfa Ganu Association is pleased to announce that the winner of the 2019 Gold Award is Donna Morris of Toronto.  Donna was born in Toronto, shortly after her parents emigrated from Wales.  She was christened at Dewi Sant Welsh United Church, and has spent her whole life immersed in the Welsh communities of Toronto and Ontario.
When she was young, Donna was a member of Clwb Cymraeg, a Welsh folk group that performed at various venues and events around Toronto.  She also competed at Eisteddfodau at Dewi Sant, and volunteered for various tasks including Toronto Caravan.  Donna represented the Welsh at many events around Toronto celebrating the 150th birthday of the city.  In later years she was a member of Ddawnswyr y Ddraig Goch, a group that performed traditional Welsh folk dances at numerous events including multi-cultural events and Celtic festivals.  She was a member of the Dewi Singers, a Welsh choir that performed traditional Welsh music regularly at Dewi Sant Welsh United Church, and interfaith celebrations around Toronto. She has most recently been a member of Merched Dewi, the ladies choir associated with Dewi Sant Church for many years.   She competed with the choir at the 2004 WNGGA Eisteddfod in Buffalo, and toured Wales with the choir in 2010. 
Donna has remained an active member of Dewi Sant Welsh United Church all her life.  Donna was involved in both the 90th and 100th celebrations of Dewi Sant. She served as the Chairperson for the 90th Anniversary, which  included a banquet at the Old Mill and a gymanfa ganu at Dewi Sant.  As a member of the centenary committee, Donna wrote letters to over 300 Welsh organizations soliciting financial support for Dewi Sant.  For this special birthday, she also worked with different levels of government to raise the profile of the only Welsh Church in Canada, and successfully arranged a tour highlighting the Welsh influence in Toronto.
Her natural leadership skills have led to Board positions in other Welsh organizations. Donna served as President of the St. David's Society of Toronto from 1987 to 1989.  During her tenure she presented a goat to the Fort Henry Guards in Kingston; forged an alliance with the British Consulate General in Toronto; attended numerous functions with the British Consulate and British Canada Chamber of Trade and Commerce on behalf of the Toronto Welsh; introduced and provided a costume for a Mari Lwyd procession at Dewi Sant; produced and directed "A Child's Christmas in Wales" (narrated by Rev. Cerwyn Davies); arranged outings to "The Corn is Green" and "Sleuth" featuring Geraint Wyn Davies; co-chaired two Eisteddfodau at Dewi Sant; produced a paper on the History of Welsh Immigration to Canada for the Toronto and District School Board; initiated participation in the British Isles Show; and organized other events of interest to the Welsh of Toronto.  Donna is again  a board member of the St. David's Society and lately has organized a group to see Geraint Wyn Davies performing in "My Fair Lady" in Stratford, and another to see "Matilda" in celebration of the Welsh-born novelist Roald Dahl's 100th birthday.
Donna joined the Board of the Ontario Gymanfa Ganu Association (OGGA) in 1998 and served several years as Secretary.  After a brief hiatus, she returned to the Board in 2011 and was elected Vice-President for the 2013 and 2014 festivals.  She served as President in 2015 and 2016.
When the North American Festival of Wales (NAFOW) came to Toronto in 2013, Donna was a member of the local organizing committee. She reprised her tour, highlighting the Welsh influence in Toronto, and researched distinguished Welsh Canadians for panels created by Catrin Brace, Office of the First Minister, Welsh Government.  These panels are regularly displayed at NAFOW and other Welsh events throughout North America.
Always involved with promoting the Welsh culture, she is a trustee of Dewi Sant Welsh Church, works diligently at their Christmas outreach program every year, arranges an annual bus trip for members of Dewi Sant and their friends, and helps with catering and organizing dinners and bazaars at the church.  
Considering the enormous amount of time and energy Donna has devoted to Welsh causes in Ontario, she is eminently qualified and richly deserving of this honour.
---
SUBMITTED TO THE NINNAU (below)
It is with the utmost pleasure that the Board of the Ontario Welsh Festival announces the winner of this year's Gold Award :  Donna Morris of Toronto.
Donna is totally familiar to all members of the Welsh community in Ontario, as her involvement with all matters Welsh is legendary.  Choirs, Caravan, eisteddfodau, Dewi Sant Welsh church, the St David's Society are but a few of the organizations to which she has belonged and still belongs.
Of course it would be difficult for Donna not to  be 100% involved in Welsh events – she was the first baby to be christened at Dewi Sant at its present location.  Her parents, Megan and Islwyn Morris, made sure that Donna was completely aware of her Welsh heritage and they played a pivotal role in "leading the way".  They would be justifiably proud of their daughter.
Ever ready to participate in all Welsh events, Donna could be relied on to play a leading role in Cymanfaoedd, Merched Dewi, The North American Welsh choir, and the Ontario Welsh Festival (as a long time Board member and past President).  Dewi Sant is especially important in her life and she is currently a trustee, working diligently at their Christmas Outreach programme and helping with organizing special dinners and bazaars at the church.
Donna is extremely fond of "an outing or two"!!!  Therefore who better to organize a trip somewhere exciting?  Want to go to Stratford to see Geraint Wyn perform?  Donna will plan it.  A couple of years ago I took my grandchildren to see "Matilda" in the city, thanks to Donna, who had decided we should celebrate Roald Dahl's 100th birthday.
One of her very successful trips is a bus tour of the Welsh interests and influences in Toronto- organized for the celebration of Dewi Sant's 100th birthday and reprised for the National Gymanfa 2013 in Toronto.  Two very special occasions!
Have I listed all of her involvements?  Impossible!  Suffice it to say that as a child of Dewi Sant she has had a role in every possible club and organization.
Diolch o galon, Donna.  No-one deserves this Award more than you.  I just wish your parents were here to celebrate with us.
Hefina Phillips