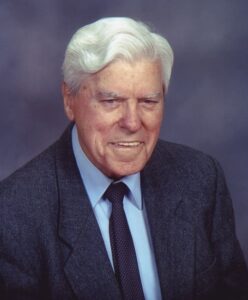 The Board of the Ontario Gymanfa Ganu Association is delighted to announce that Harold Woodey is the recipient of the 2015 Gold Award.  Harold is well known in the Ontario Welsh Community and has been a supporter of many Welsh endeavours for close to 50 years.
Harold Woodey was born in the village of Aberaman near the town of Aberdare in the Cynon Valley area of Rhondda Cynon Taf, Wales, in 1919. He emigrated to Canada in 1947 following his heart to marry his wife Betty in 1948. Harold, Betty and their daughter Kathy joined Dewi Sant Welsh United Church in 1966.
During his years at Dewi Sant Welsh United Church in Toronto, Harold worked tirelessly in a number of capacities. He was a long-time member of the Board of Stewards; and a member of the Board of Trustees. He was an integral member of the Property Committee and for many years kept the old boiler in the church functioning through his sheer ingenuity. Well into his retirement, Harold was the 'handyman' that fixed and sustained when finances didn't allow replacement in so many areas of the church plant.
Harold's involvement with things Welsh did not reside wholly in the domain of Dewi Sant. For countless years, Harold was the President of the St. David's Society of Toronto and was integral in assuming the reins of the Welsh Caravan from its third year of operation until the demise of the program many years later. It was also during these years that Harold acted as the prime organizer for some of the very large and well-known Welsh choirs when they visited Ontario.
When asked what stands out in his memory from his time spent at Dewi Sant WUC, Harold responded: "The people. After all, the members ARE the church. The physical building is just a necessary requirement." After Betty's death in 1993, Harold's decision to dedicate a stained glass window in Betty's memory did much to beautify the sanctuary and has been so appreciated by the many who have worshipped at Dewi Sant WUC in the interim.
Harold was a well-loved and respected member of the Toronto Welsh Male Voice Choir for many years.
Harold has also been a welcome presence at the Ontario Welsh Festival over many years.
-Betty Cullingworth
Editor's Note: Unfortunately, Harold was not able to attend the festival in 2015. He passed away on September 17, 2015 at the age of 95. Harold will be fondly remembered by all who had the pleasure of knowing him.