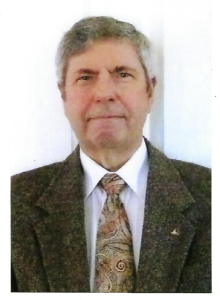 The words "Ontario Welsh Festival" and "Dave Pugh" are totally synonymous. Dave has been involved with this annual event since the early 1980s and is the extremely worthy winner of the Gold Award. Although he was born in Ontario, his heritage is 100% Welsh- which is obvious when we realize his passion for all things Welsh- especially Welsh choirs.
Dave has been responsible for organizing the visits of several Welsh choirs, including Côr y Traeth and Dynfant. The word "organizing" for Dave also means that visiting choirs get to perform in as many venues as possible around Southern Ontario.
In 1984 Dave was elected to the Board of Trustees of the Ontario Welsh Festival. Amongst the positions he has held on the Board is President (twice) and Treasurer. He formed a very successful liaison with our travel agent to organize the visits of choirs, resulting in problem free travel arrangements for Welsh choirs once they arrive in Ontario. Currently he is responsible for soliciting advertisements for our booklet.
Dave was the first to add a seminar to the Festival weekend when he invited a speaker from the Stratford Festival in 2005.
Dave's passion for his Welsh heritage has resulted in his attending residential Welsh language courses in North America and, of course, visits to Wales, especially the National Eisteddfod. He also organized a Welsh weekend in his hometown of Oshawa which featured the Ottawa Welsh Choral Society.
Congratulations to this year's winner of the Gold Award. Very much deserved!