Niagara Falls – April 2013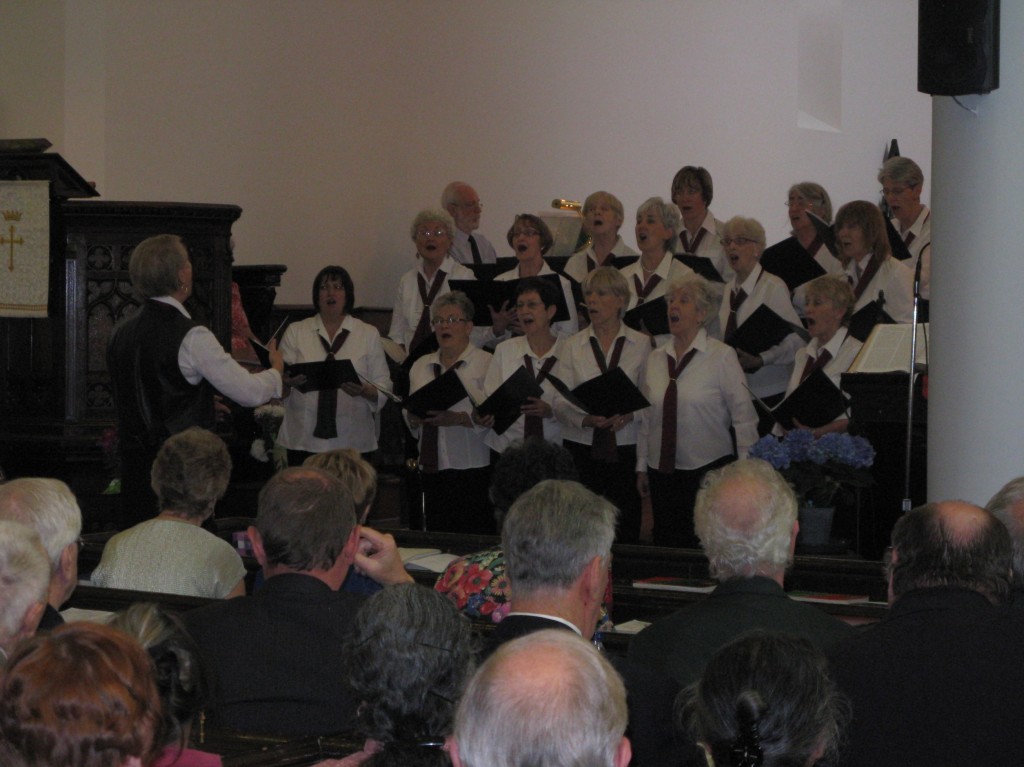 What a super weekend.  Sunshine, warm weather, beautiful rainbows straddling the Falls and no strong winds!  The perfect setting for the annual Welsh festival.
The weekend started with one of the best Nosweithiau Llawen that we have had in a long time.  Myfanwy Bajaj introduced a variety of performers and interspersed with a very funny selection of jokes.  At the end of the Noson Lawen we were still in high spirits as we carried on the festivities at the Afterglow (no pun intended).
This year's Market place was exciting and varied, with vendors from far and near.  The tea room was the meeting place for everyone and there were plenty of Welsh cakes and bara brith to accompany the endless cups of tea.  Our thanks to the bakers who donated them.
Saturday, as usual, was chock-a-block.   The Board had an early start with a breakfast meeting at 7.30.  It was then a rush to get to the AGM by 9 AM.  Meriel Simpson, president of the Board, invited the Rev.  Elwyn Hughes to open the meeting with a prayer.  All current Board members were re-elected and Genny Billingsley was co-opted to the Board.
One of the annual highlights for many is the Awr y Plant (Children's Hour).  Yet again this year the children turned up trumps.  Katie Quesnelle, Charlotte Morgan, Tegan Thomas, Kieran Cordy and Kyle Cordy opened the Hour with a performance of The Lady of the Lake.  Several other children were also eager to show their talents.  Harri and Jack Jones, Daniel and Kate Lloyd, Ian Quesnelle, Madison Freemantle, and her little cousin, Keiran Christie, joined the others and recited, played the piano and sang-and told jokes!
Two seminars were offered –Mary Muckle, who also entertained us during the weekend, talked about the history of the harp in Wales.  This was followed by a lecture given by Professor John Ellis of Michigan University Flint.  Owen Rhoscomyl was the fascinating subject of his talk.  His adventures were astounding and how he managed to stay alive as long as he did is quite astonishing.
John brought with him a group of his students.  They were about to experience their very first visit to Wales, and the Ontario Welsh Festival was their first taste of Welsh culture and traditions.  They had a super time and thoroughly enjoyed themselves.
A quick change of clothing before making our way for a glass of wine prior to the Banquet!   The highlight was the Gold Award.  This year's recipient was The Rev Dr Cerwyn Davies, introduced by Myfanwy Bajaj, the previous year's winner.  Cerwyn, as we all know, is a speaker par excellence, and he out-did himself on Saturday evening.  His speech of acceptance was quite brilliant (and very emotional).  Supporting him and Nora was their beloved son, Geraint Wyn and his lovely wife, Claire, who had snuck away from the rehearsals at Stratford for this very special occasion.
Then off to the concert.  Meibion Taf directed by Rob Nicholls was this year's guest choir and they have to be the friendliest, most sociable choristers in a long time.  And watch out for Steffan Jones, their baritone soloist.  There's not much of him physically, but, oh! golly gosh, "from where does that voice come?" one may ask.  Alan Thomas, our very talented organist, was so impressed with Steffan that he has invited him to return in the Fall.  Watch out for information about his forthcoming visit, and do your best to hear him!
Rarely have I enjoyed a gymanfa as much as I did on Sunday.  Rob is an excellent conductor and he brought out the best in us.  The singing has to be among the best I've heard.   I would love to see him return as Cymanfa conductor.
All too soon we were singing "God be with you till we meet again" and bidding sad farewells to friends, new and old.  But as everyone else left for home, the Board held its first post Gymanfa meeting to discuss how we can continue to bring you a Welsh festival of the highest possible quality.  Check out our website (www.ontariowelshfestival.com) and also look out for our new logo.
See  you same time, same place next year!
Hefina Phillips