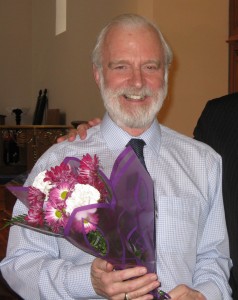 Alan Thomas has an international reputation as both organist and piano accompanist, especially in the United States and Canada, where he has performed in many music festivals.
In the City of Ottawa he has performed with numerous music societies, notably Canadian Amateur Musicians in their annual performance of Come Sing Messiah, the Capital City Chorus, the Parkdale Orchestra, the Lakeside Players, both Ottawa and Carleton Universities, the Kiwanis Music Festival and the Ottawa Welsh Society. He is also in demand as vocal and instrumental coach for the students of several Ottawa music teachers.
In 1977 he was appointed Organist and Choir Director of Westminster Presbyterian Church, a position he still holds. During this time music has become a very important part of the church, involving the choir, special services of music, and the presentation of concerts involving both local and international artists.
Alan was educated in Wales and England, obtaining degrees from the Universities of Manchester and Reading.  Alan can be described as a "classical scholar" as he reads Latin, Greek and Hebrew.  He was very active in music societies there, and as pianist and organist on radio and television, and on the staff of the National Youth Orchestra of Wales.  Alan's hobbies include studying foreign languages, ancient and modern and sampling single malt scotch.
Alan will be playing the organ at the Cymanfu Ganu on Sunday.