Côr Crymych a'r Cylch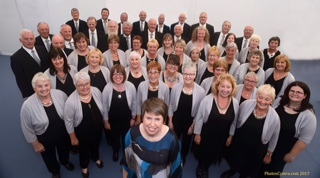 Côr Crymych a'r Cylch (Crymych and District Choir) has over 45 members and meets regularly at 'Theatr y Gromlech', Crymych. Members travel from areas in North Pembrokeshire and South Ceredigion, and this is reflected in the words 'a'r Cylch' ('and District') in their title.
The choir has a wide repertoire and sings in a variety of musical styles. Performances include fundraising concerts for local charities, appearing as support singers in various cultural shows, musicals and operas, and competing in Eisteddfodau.
2013 saw the choir win the main choral competitions at St. Dogmaels, Newcastle Emlyn and Crymych Eisteddfodau. The choir won the mixed choir category in Gŵyl Fawr Aberteifi and was awarded the title 'Côr yr Ŵyl' ('Choir of the Festival'). The highpoint of the choir's year came at the National Eisteddfod in Denbigh, where they won the Mixed Choir category with a virtuosic programme of contemporary Welsh music. 2014 was a busy year, the choir competed at Llangollen International Eisteddfod for the first time, and travelled to Vienna where we performed at numerous venues including the Royal Chapel in Schönbrunn and St. Stephen's Cathedral. In 2015 the choir reached the semi-final of Côr Cymru 2015 (Choir of Wales) which was televised on S4C.
Côr cymysg o tua hanner cant o gantorion yw'r aelodau sy'n cwrdd yn wythnosol yn Theatr y Gromlech, Crymych. Mae'r geiriau 'a'r Cylch' yn dynodi fod y côr yn dod o'r ardaloedd cyfagos – Gogledd Penfro, De Ceredigion a Gorllewin Sir Gâr.
Mae gan y côr repertoire eang ac maent wedi perfformio nifer o weithiau cerddorol, o'r clasurol i nifer o ddarnau Cymreig cyfoes. Mae rhaglen flynyddol y côr yn cynnwys cyngherddau i godi arian at elusennau yn ogystal â chystadlu mewn eisteddfodau.
Yn 2013 mi enillodd y côr y cystadlaethau corawl yn Eisteddfodau Llandudoch, Castellnewydd Emlyn, Crymych a Gŵyl Fawr Aberteifi, lle rhoddwyd y teitl 'Côr yr Ŵyl' iddynt. Pinacl y flwyddyn oedd ennill y wobr gyntaf yng nghystadleuaeth y corau cymysg mawr yn Eisteddfod Genedlaethol Sir Ddinbych a'r Cyffiniau. Bu 2014 yn flwyddyn brysur, cystadlodd y côr yn Eisteddfod Gerddorol Ryngwladol Llangollen am y tro cyntaf a bu'r côr ar daith i ganu yn Vienna lle cafwyd profiadau bythgofiadwy yn cynnwys canu Ave Verum (Mozart) yn y Stephansdom lle briododd Mozart yn 1782. Yn 2015 gwelwyd y côr yn cystadlu ar S4C yn rowndiau cyn-derfynol Côr Cymru 2015.
John Ieuan Jones, Guest Soloist
Originally from Rhos-on-Sea, North Wales, John Ieuan Jones is a baritone who recently graduated from the Royal Northern College of Music with a first class honours degree. He has returned to the college for a further two years of study to complete his masters, generously supported by numerous scholarships including the Andrew Lloyd Webber Foundation, Sybil Tutton Award from Help Musicians UK and the Darpers' Company as their De Turckheim Scholar. He was originally trained by Mezzo-Soprano Sian Wyn Gibson and composer Brian Hughes before progressing to the college where he is now under the tutelage of internationally acclaimed bass, Matthew Best.
During his undergraduate degree, John Ieuan was fortunate to spend a lot of time on the Opera Theatre stage, being in the chorus for The Merry Widow by Lehar, part of the small ensemble for Cosi Fan Tutte by Mozart, played the role of Harry Easter in Weill's Street Scene and Lord Ellington in La Vie Parisienne by Offenbach. As a result of his work in Cosi Fan Tutte, John Ieuan was invited to cover the roles of Antonio and Bartolo at Longborough Festival Opera's production of Le Nozze di Figaro in 2016, directed by Thomas Guthrie. In 2017 he played Count Almaviva in Le Nozze di Figaro by Mozart as part of the college's Opera Scenes. Now in his first year of masters, this December John Ieuan will be playing the role of Pandolfe (Cinderella's father) in RNCM's production of Cendrillon by Massenet, conducted by Martine André and directed by Olivia Fuchs. In early 2018, he recorded with Victorian Opera Northwest in a recording of comic opera Dorothy with conductor Richard Bonynge.
John Ieuan is extremely fortunate to have won numerous awards and scholarships including the RNCM James Martin Oncken Song Prize, Manchester Welsh Society Prize, Sybil Tutton Award by Help Musicians UK, Gwilym Gwalchmai Jones Award and the Andrew Lloyd Webber Foundation Sarah Brightman Scholarship. He has also had countless successes in National and International Eisteddfods in Wales including the National Eisteddfod of Wales Eirwen Griffiths Jones Memorial Scholarship, Wilbert Lloyd Roberts Memorial Scholarship and the prestigious blue riband competition, the Osbourne Roberts Memorial Prize. This year, John Ieuan won the Urdd National Eisteddfod Musical Theatre category and subsequently was selected to be one of six performers competing for the Urdd Bryn Terfel Scholarship.
As well as his passion for Opera, John Ieuan Jones is very keen on his Musical Theatre, alongside his success in national and international competitions, John Ieuan has played the title role in Joseph and the Amazing Technicoloured Dreamcoat, Charles Clarke in Titanic: The Musical and recently played Leon Czolgosz in Sondheim's Assassins at a sell out run at the Edinburgh Fringe Fesitval.
John Ieuan is an experienced concert singer, with a wide variety of repertoire ranging from operatic arias, Welsh songs, Lieder, songs from the shows and ballads, performing in concerts throughout Wales, the UK and further afield. Some highlights include performing in Proms in the Park Wales in 2016, the Drapers' Company Annual Election Dinner, Conwy Business Awards, soloist with numerous choral societies and travelling to Florence to perform in an Opera Gala at the St Regis Hotel.