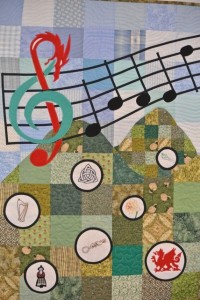 If you wish to make a donation to the Festival, please mail a cheque made out to the Ontario Gymanfu Ganu Association (or O.G.G.A) to:
Ontario Welsh Festival
33 Melrose Avenue
Toronto, Ontario M5M 1Y6
If you wish to have an In Memory or In Honour donation acknowledged in the 2020 Festival Booklet, payment must be received before March 6, 2020. Please indicate the type of donation with your cheque and include a contact email address.
For more information, please contact Christine Campney at treasurer@ontariowelshfestival.ca
If you would like to place an ad in the Festival brochure, email president@ontariowelshfestival.ca
We appreciate your support in helping the Festival to continue. Diolch yn fawr!
Picture is of quilt made and donated by Phene Richardson in memory of her husband Gwyn Richardson originally from Upper Cwmbran, Wales.