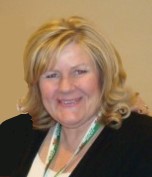 It is with the utmost pleasure that the Board of the Ontario Welsh Festival announces the winner of this year's Gold Award :  Donna Morris of Toronto.
Donna is totally familiar to all members of the Welsh community in Ontario, as her involvement with all matters Welsh is legendary.  Choirs, Caravan, eisteddfodau, Dewi Sant Welsh church, the St David's Society are but a few of the organizations to which she has belonged and still belongs.
Of course it would be difficult for Donna not to  be 100% involved in Welsh events – she was the first baby to be christened at Dewi Sant at its present location.  Her parents, Megan and Islwyn Morris, made sure that Donna was completely aware of her Welsh heritage and they played a pivotal role in "leading the way".  They would be justifiably proud of their daughter.
Ever ready to participate in all Welsh events, Donna could be relied on to play a leading role in Cymanfaoedd, Merched Dewi, The North American Welsh choir, and the Ontario Welsh Festival (as a long time Board member and past President).  Dewi Sant is especially important in her life and she is currently a trustee, working diligently at their Christmas Outreach programme and helping with organizing special dinners and bazaars at the church.
Donna is extremely fond of "an outing or two"!!!  Therefore who better to organize a trip somewhere exciting?  Want to go to Stratford to see Geraint Wyn perform?  Donna will plan it.  A couple of years ago I took my grandchildren to see "Matilda" in the city, thanks to Donna, who had decided we should celebrate Roald Dahl's 100th birthday.
One of her very successful trips is a bus tour of the Welsh interests and influences in Toronto- organized for the celebration of Dewi Sant's 100th birthday and reprised for the National Gymanfa 2013 in Toronto.  Two very special occasions!
Have I listed all of her involvements?  Impossible!  Suffice it to say that as a child of Dewi Sant she has had a role in every possible club and organization.
Diolch o galon, Donna.  No-one deserves this Award more than you.  I just wish your parents were here to celebrate with us.
Hefina Phillips