Featured
Planning for the 53rd Ontario Welsh Festival is well underway. We invite you to join our celebration of all things Welsh on the weekend of April 25-27, 2014 at the Marriott Gateway on the Falls Hotel in Niagara Falls, Ontario.
Must-see events at the 2014 Festival are:
Regular updates about the Festival weekend can also be found here on our website or at our Facebook page www.facebook.com/ontario.welsh.festival.
Mark the April 25-27, 2014 weekend on your calendar now. The celebration will not be the same without you!
Trending Stories
Latest
Congratulations to Myfanwy Davies, the 2014 Recipient of The Gold Award.
/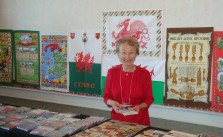 Planning for the 53rd Ontario Welsh Festival is well underway. We
/